The mention of the words 'modern architecture' and 'Sliema' in the same sentence are today rarely uttered without angry or wistful grimaces. Creativity and harmony hardly describe what has since the 1960s risen in this town as far as new buildings are concerned. Yet the original Sliema was synonymous with innovative expressions in construction design. In this series, Edward Said, an architect by profession and founder of the Sliema Heritage Society will introduce readers to those protagonists and their creations which gave this town its distinct character. Whether still standing or long-demolished, heavily modified or even never built, these intermittent articles will attempt at identifying the buildings legacy of these men in Sliema.   
Without doubt, the inter-war years of the last century were the most interesting as far as architecture goes in Sliema. These were dynamic times both locally and abroad, a time during which the careers of a generation of Maltese architects peaked. It is fascinating to study the way they portrayed their ideologies and sometimes the socio-political situation of Malta at the time in what they designed. Some made bold statements challenging traditionalism whilst others negated new styles altogether, adopting instead their own distinctive eclectic concepts based on the vernacular. Gustavo Vincenti (1888-1974) experimented with Arts Nouveau and Deco, Silvio Mercieca (1888-1954) reflected his staunch political beliefs in the countenance of the stately homes he created and Joseph Cachia Caruana (1894-1981) practically disregarded Art Nouveau, preferring to use vernacular classicism in his many residential projects.
What is particularly interesting about some of these personalities, besides their intriguing biographies, is how their clearly most coveted canvas, the new town of Sliema became a battleground in which they crossed stylistic swords. This pique can be savoured whilst strolling down Amery Street which has thankfully so far largely escaped the axe of 'greedevelopment'. Here some of Vincenti's most iconic creations stand, hallmarked with the ubiquitous tassels and buckles of Art Nouveau. Yet in this street another architect was strongly repudiating this new style, designing instead according to a chiefly classical school embellished with his own idiosyncrasies. This was Alberto La Ferla.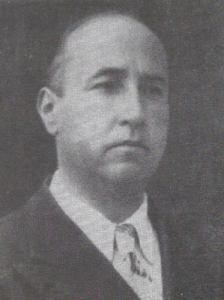 Born in Valletta in 1898, he graduated in the early 1920s, coming first in the course which won him a scholarship to Turin. He later went on to Rome where he worked in the studio of Enrico Del Debbio, then busily designing Mussolini's grand schemes for the city. In Italy, La Ferla acquired a fondness for the works of Manneristi Giulio Romano and Andrea Palladio from which he borrowed certain traits in the residential commissions he attained soon after his return to Malta.
It is clear that the young architect was not happy with the situation here where Art Nouveau was slowly distorting the classical idiom. His earlier buildings are purely traditionalist creations, taking inspiration from Valletta's Hospitaller architecture together with some of the subtler Mannerisms of Palladio and Romano, because La Ferla was indeed a Mannerist struggling to detach himself from the norm. Rusticated masonry, guttae, large windows sitting on elongated scrolls, Palladian porticoes, bold panelling and breaking up of facades and rooflines are some of his preferred inclusions. Many of these elements are found in the exquisite 'Beatrice' on the corner of Amery and Milner Streets, named after the Dantesque character and commissioned by Mons. Giuseppe Psayla-Cumbo. Indeed this is one of Sliema's landmark buildings. He also paid special attention to the design of the apertures and wrought iron fittings employing motifs such as the shield-panels on doors and balconies, as well as railings with basic spiralling, features one would normally associate with the 1960s and 70s. These can be seen on a number of his facades along Amery, Milner and Howard Streets.
Soon enough he became a fervent rationalist, simplifying his designs further, retaining however the monumentalism he had acquired from his time in Italy. He cleverly succeeded in striking symmetry to single-fronted houses as can be seen in his Milner Street and Prince of Wales Road (today Manwel Dimech Street) terraced residences. 'Warrior' built for a Maltese Royal Navy seaman who served on a ship by that name in Old College Street is typical of his passion for the monumental. Incidentally, La Ferla was affectionately known by many as Il-Warrior himself due to his persevering personality, and one likes to think that in this facade he took the opportunity to display his architectural prowess complete with signature.
Further along in the same street, just before it-Telgha tal-Kirxa La Ferla designed a row of houses for which he stripped away practically all ornamentation from the facades, even the railings are of the most basic form. These modest homes are undoubtedly one of Malta's earliest and best examples of civil architecture expressing a fair balance between traditionalism and modernism.
Walking up Prince of Wales Road from Balluta, past Psaila's towering Balluta Buildings, just before the Old College Street bridge stands a house which despite its standard three-cane frontage, evokes a unique sense of grandeur. Alberto La Ferla designed 'Cactus House' for his client and friend Frederick Gollcher. Everything is rectilinear, the only curved element in the facades being the backs of the pair of square-headed niches at first floor, something never seen before in Malta. The simple yet symbolic design of the balcony railing and main door fanlight coolly portraying Saharian cactus and palm tree motifs screams in contrast with the Art Nouveau floral lusciousness down the road. Again the oversized window at ground floor stands out, sitting now on angular brackets, an echo of the earlier rolling scrolls La Ferla liked so much. The proportions of the openings, panelling and crowning cornice are superb. Once more he has wittily given a modestly-sized, single-fronted dwelling a majestic symmetrical facade. This building was finished in 1931.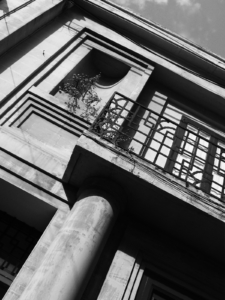 Besides residences, La Ferla was commissioned with a number of commercial and institutional schemes. By the end of the 1930s, he had turned totally to rationalism. At the office block called Walvicfra in Prince of Wales Road corner with St Mary Street (today replaced by the Prince of Wales Home) he projected an extension to an existing building by introducing a 'square-arched' screen-portico carrying an upper floor with broad fenestration and cubic panelling. At this time La Ferla also contributed designs for schools characterised by modernist architecture which were indeed forerunners to the national school-building programme carried out in the 50s and 60s.
When war broke out in 1940, Alberto La Ferla was interned. He was one of the few to remain in Malta rather than being deported to Uganda and was kept at the St Agatha Camp in Rabat. On the 21st March 1942 he was killed during an air raid after the compound received a direct hit.
His progressive strive for architectural modernity Malta was carried on by his son Renato whom I would like to thank for readily providing me with facts and insights about his father's career.
Parts of this article appeared in 'the Architect', published by the Malta Chamber of Architects, also by the same author.
Edward Said
Sliema 14-ix-12
Selected bibliography
Said, Edward, The Art Nouveau Movement in Maltese Architecture, in Art Nouveau and Malta: An Introduction, Midsea Books Ltd, Malta 2011.
Said, Edward, Perit Alberto La Ferla (1898-1942) – Striving towards Modernism, in the Architect, Malta Chamber of Architects, Malta 2011, Issue 56, 20-21.
Tonna, Jo, L-Arkitettura F'Malta, PIN, Malta 2004.